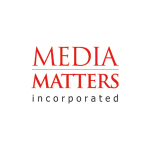 Overview
Sectors Collision Repair Industry

Posted Jobs 0

Viewed 1389
Company Description
Media Matters Inc. has become a cornerstone of the publishing industry, bringing top-notch magazines such as Collision Repair and Canadian Auto Recyclers to automotive stakeholders across the country. Not only are we committed to packaging industry leading print offerings, we also offer innovative web design and eZine capabilities.
Our skilled editorial and design teams are as enthusiastic about the automotive industries as they are about our products. Over the years, we've broadened our expertise across various sectors, including but not limited to mechanical automotive service, jobbers and the towing and recovery industry. We've also stepped outside the automotive world to cover Toronto real estate and historic homes.
In the end it's about results, and we've been dedicated to being top of the field in publishing and management for over a decade. By channeling passion and integrity into each service, we deliver the best returns to our customers.